What is Odoo?
Odoo is defined as business management software that includes CRM, e-commerce, billing, accounting manufacturing, project management along with inventory management. The source code for framework and its ERP modules is designed by Belgium-based Odoo.
Odoo was initially called as Open ERP S.A. Since its initial days, it has released the software in the form of Open Source. Since the release of V9.0, it has been a subscription-based proprietary enterprise and cloud-hosted software as a service. Odoo's architecture allows a large number of freelance developers and firms to create and develop Odoo apps or Modules and place them in marketplace where the users can download them for free.
Odoo Implementation
In today's world, the businesses have been facing a lot of competition. Hence, to stay in the game, businesses have to work out at every level efficiently and successfully to have the desired end result. Operations at every level should be optimized and carried out in the best way possible to achieve the desired goal. In order to achieve this, ERP was found. The meaning of ERP is Enterprise Resource Planning. ERP software products have simplified the way business operations at every level are carried out.
But the catch here is, ERP comes with its own sets of benefits as well as advantages. An enterprise can have several functional departments like Human Resources, Customer Relationship, Inventory, Financial management etc. So, initially, ERP was developed to suit every department individually. And this led to each department having different software applications to establish the department's goal. This denied the creation of a centralized structure with zero communications within different departments which gave rise to a chaotic situation.
To overcome such disadvantages and loss of efficiency, Odoo was found. Odoo was found with an aim to provide a customized platform that provided all the benefits a business could derive. This was followed by enhanced performance and increased industrial growth.
Benefits of Odoo ERP Implementation
Odoo comes with 5000+ business modules that can be plugged-in any time to address specific business requirements.
Single software application: As Odoo is an Open Source, it fulfills the requirements of business modules like HRM, CRM, inventory management, manufacturing as well as accounting functions. Odoo's app store has 10000 different apps that meet different business requirements.
Quick Implementation and Integration: Because of Odoo's API friendly platform, it is easy to encapsulate and integrate various business modules and applications. Odoo maximizes the business potential and efficiency by providing seamless integration of Magento, Shopify, eBay and other modules.
Zero Licensing Costs: ERP licensing can incur significant amount of cost and expenditure as opposed to Odoo implementation because of its availability as an open source platform. With easily available source code, integration of ERP modules is easy and businesses can invest the saved funds to other customizations for future.
Odoo Implementation Process
There are 5 phases of Odoo implementation procedure. Let us take a glimpse of each phase.
1. Overall Project Planning
This phase involves iteration selection where you select the number of iterations required during the project planning. Then you have to switch over to temporal planning of iterations, where you select number of iteration in individual iteration. Moving ahead, you have to select team members and planning the first iteration.
2. Functional analysis of all the processes
This phase involves Analysis of Global GAP, generation of Usability Testing Scenarios and Training for the preliminary tool.
3. Deployment of Iterations
In the first iteration, you have to conduct preparations, objectives, milestones of the project, status of the project, and sharing of the documents.
Technical GAP analysis involves different processes, exchange of data, Workflow, generation of Forms, Screens and Project Reports.
Implementation involves Technical installation of the project, prototype generation, Data imports, Training, creation of contextual and detailed testing scenarios followed by project documentation.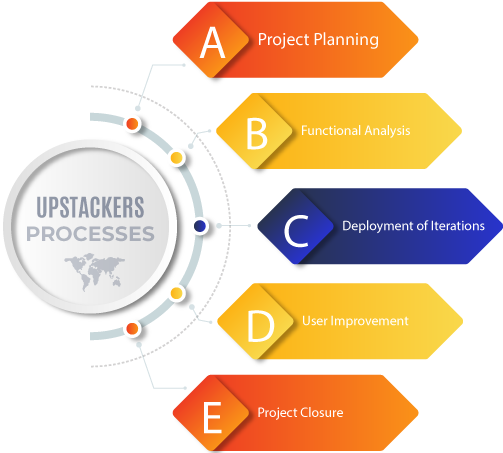 Testing phase involves testing project technically, usability tests along with the user validation. Once all the phases have been successfully implemented, you host your project and make it go live by latest data selection, installation on the place of the site and conducting final tests to remove the bugs and installation issues. The closure phase includes acceptance of the product, technical assistance and system maintenance with regular updates.
4. User Involvement
User involvement consists of obtaining user feedback and training the user to accustom him to the installed system.
5. Project Closure
This is the final stage where the system is successfully implemented and the end user starts using the system to optimize business functions.
Reap Benefits of Odoo Implementation with Upstackers
Our Odoo development services can help you maximize the potential of your business and its business functions. Our expert team adopts the best approach to serve your business in the best way possible. We develop user-friendly and business-friendly applications using various technologies. We offer assistance in reducing the complexities that businesses face on daily basis. Upstackers provide following services:

End-to-end ERP and CRM implementation
Maintenance and User Assistance
Development of customized module.
Odoo Migration
Upstackers is an upcoming company that specializes in Odoo based ERP solutions and business processes in accordance with the targeted business models. We offer 24x7 client support once the system is installed successfully at the user's site. Upstackers Team makes sure that we innovate your system according to your changing needs and offer regular system updates and maintenance.
Our Top Services
Services we deliver